Barrel Sauna Delivery
Sisu Saunas will go the extra mile to make sure nothing stands in the way of you and your Barrel Sauna.
You can:
Have your Barrel Sauna delivered right to your door.
Pick your Barrel Sauna up directly at the sauna sales location in Canyon, MN.
Schedule a convenient pick up location point.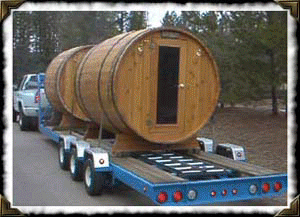 The current delivery fee is $0.85 per loaded mile. This includes the necessary time, tools and equipment needed to get the sauna in its desired location and ready for operation.
All deliveries are done directly by Sisu Saunas or an affiliate of Sisu Saunas and not a commercial carrier, which returns a personal interest in your sauna and your investment.
When planning the placement location of your Barrel Sauna, make sure there is at least a 6' wide (7' if roof awning) opening available between wanted trees, fence openings, and or structures, to allow the sauna to pass through if need be.
Remote locations and "off the beaten path" set ups is our specialty. We have the equipment to barge, cart, winch and ice travel your sauna to its desired location. "We'll Sweat the Details" you just need to tell us where you want it placed.
Please contact us to discuss all delivery options and final delivery costs.